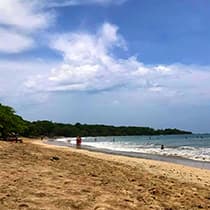 The beach town of Tamarindo in Guanacaste is not short of things to do. Obviously, there's fishing, but there is also a lot more to do during your time visiting. Tamarindo's great location, relaxed surf breaks and chilled out atmosphere are not to be missed.
So, here are 10 cool things to do in Tamarindo.  I guarantee you will not get bored.
Estuary Boat Rides
Tamarindo has a large mangrove estuary right next to the beach.
Visitors can explore the estuary either by renting boat tours or more independently by kayak. A great way to see Costa Rica's abundant wildlife, monkeys, birds, crocodiles and more.
Boat rides around the estuary start at about $40 per person. Near the entrance of the estuary is a little house where you can book the tours.
Access is via road, on the right-hand side of the road driving into Tamarindo there is a sign for "Marino Las Baulas National Park." Or you can walk over from the beach.
Relatively cheap day out making it great value for money.
Sunset Sailing
Head out on a sailing catamaran to do a sunset tour and enjoy the breath-taking sites from the ocean.
Alternatively set out on a morning trip to really take advantage of the snorkelling and beaches hopping.
At the right time of year, you can see turtles, dolphins or even whales.
Catamaran cruises is a super fun activity with families or big groups, or even for couples to enjoy a bit of romance.
Prices are about $85 per person for a sunset cruise.
Sport Fishing
Of course, we highly recommend this particular activity! Great sport fishing all year round. Head out to the deep ocean to catch huge fish like mahi-mahi, marlin, roosterfish, sailfish and more!
Find out more about our packages here.
Ziplining
There are several canopy tours on offer right outside of Tamarindo that vary in excitement levels.
Feel the thrill of flying through trees, over rivers and from mountain to mountain!
Black Stallion offers a take a sunset zip line tour in the mountains for the extreme adrenaline junkies,
Canopy tours are about $55 per person. At some places, like Black Stallion, which I mentioned above, you also can combine zipping (if that's the right term) with horseback riding (obviously not at the same time).
Stand up paddle boarding
If you're not sure about surfing then give stand up paddle surfing a try. It's great exercise and very popular, most surf shops offer board rental so head along the coastline or paddle through the mangroves.
Barra Honda National Park
Barra Honda National Park is close to Tamarindo. Hike and explore caves and really get to see the beautiful landscapes on offer.
Palo Verde National Park ( wildlife watching boat ride) and Rincon de la Vieja National Park ( hiking and waterfalls) are also quite close by.
Surfing
Tamarindo has great waves, long and slow making them consistent and particularly for suitable for beginners.
But more experienced surfers can also take advantage of the conditions, the beach is long and offers different surfing conditions depending on where you are.
If you've never surfed before then no problem. There are surf shops that teach lessons and offer surf camps and vacations.
Pretty much every day in Tamarindo is a surfing day, so why not have a go!
Board rental costs around $20 for 24 hours.
Lessons (in a group) cost around $45 for 2 hours.
ATV riding
You can find ATV tours downtown. Take roads that lead to great viewpoints, through rivers and up the mountains. A fantastic way of getting off the beaten track and exploring the amazing scenery.
Watch the Sunset on the Beach
Tamarindo's sunsets are stunning. Watch the sunset on the beach and just relax. You are in paradise so kick back after a hard day fishing or exploring and just take the time to really 'be'. Ahhhh, nice.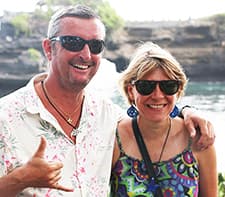 Would you like to know more about this, or find out more about the fishing, our trips or anything else we can help with?
Just get in touch and we'll be happy to answer any questions you may have.
– Roy and Louise