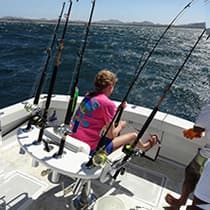 Really maximise your time on the water and get the best out of your experience using the following tips and tricks below.  
Whether bottom fishing for grouper and snapper, trolling for kingfish or offshore fishing for blackfin tuna and blue marlin, deep sea fishing can be an exciting and adrenaline pumping experience.
Read our list of tips below that could help you land a big one. Even if you're an experienced angler, there's always a chance that you may learn a few new pointers.
Our top 10 tips
1. Reefs and wrecks are ideal shelter for smaller fish and offer great locations to cast your line. Small fish are prime targets for big fish, so these habitats are ideal places to nab a big fish in its own hunting grounds.
2. Keep an eye out for dolphins as they often travel along with yellowfin tuna.
3. Seagulls or other birds flying around a certain area are a great natural indicator that there could be a school of small fish in the area. The birds may be looking for lunch, and in turn, there could be large fish looking to dine on these smaller ones.
4. Use fast-trolling lures to catch fast fish like tuna.
5. Anchor the boat and drop bait down into the reef to catch fish such as grouper or snapper.
6. When bottom fishing, make sure that you can get the bait down to where you need it by using lures like large heavy-duty jigs.
7. Use natural or artificial bait to troll around a tower or buoy to get the attention of fish.
8. A fish finder, GPS or nautical map can come in handy on deep sea fishing trips. Most sport fishing boats come fully equipped with all of the latest navigational gear and equipment.
9. Motion/sea sickness can turn your day from a pleasure to a bit of a chore. Not to worry, as there are ways of making sure that you stay feeling great so you can concentrate properly on the task in hand. First off it is a good idea to take some type of medication before setting off, this is much more effective than taking something if you should start feeling queasy. Prevention is better than cure. Even the most hardened sailors may feel a little queasy from time to time. If you do start to feel a little 'off' then the best approach is to stay up on deck in the fresh air. Watch the horizon, not what is happening in the boat. (This will let your brain coordinate what you are seeing and what your inner ear is telling you) Going below deck to sit or lie down is not a good approach. Trust us on this one. Nobody wants to ruin a trip with seasickness. 
10. Finally, make sure you have an expert on hand, it is a sensible safety rule that no one should ever be out alone plus you have a guide to the best spots and the local conditions. See our crew page for info about the crews we use here at Capullo.
A private deepsea fishing experience beats a crowded, over-worked tourist boat excursion any day. If you're interested in fishing in Costa Rica get in touch and we'd love to talk to you about the local fishing down our way.
Happy fishing!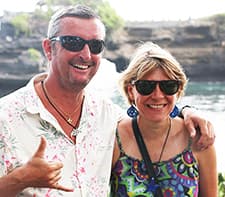 Would you like to know more about this, or find out more about the fishing, our trips or anything else we can help with?
Just get in touch and we'll be happy to answer any questions you may have.
– Roy and Louise