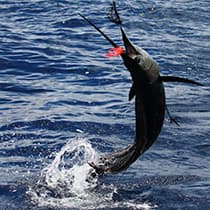 Fishing in Costa Rica is world class.
Both coasts, Pacific and Caribbean, boast excellent fishing and for many locals, it is their way of making a living.
Costa Rica offers all types of fishing, sport fishing, freshwater fishing and inshore fishing.
The country receives more than 5 Grand Slams each year during tournaments, that's how good it is!
Places to go for the best fishing.
Gulf of Papagayo
The Gulf of Papagayo is only 30 minutes from Liberia International Airport, making it the most easily accessible fishing spot for visitors. You can take an inshore or deep sea fishing trip to catch mahi-mahi, tuna, sailfish and more. The Papagayo Marina is in Culebra Bay and fits up to 180 boats!
Tamarindo and Flamingo
Tamarindo, (where Capullo is located) and Flamingo are two excellent places for deep sea fishing. (See our services here)
Drake Bay, Puerto Jimenez, Zancudo and Golfito
All three places are great fishing destinations. Zancudo is particularly good for marlin and sailfish.
Quepos
Quepos, the main town near Manuel Antonio has a large marina called Marina Pez Vela and is a great place for sailfish.
Herradura
Herradura is home to the Los Suenos Marina which holds up to 200 boats. Ideal for those who want to fish in style as it caters the needs of luxury travellers. Good place for marlin and sailfish. This is where you'll depart from if you're staying in Jaco.
Cahuita
The Caribbean coasts offer different types of fish than the Pacific. You can catch species such as Snook, Tarpon, Spanish mackerel, barracuda, kingfish tripletail and mahi-mahi.
North Caribbean (Parismina)
Rio Parismina is one of the best for giant tarpon and snook, a favourite for fly fishermen.
Samara
Samara offers decent deep sea fishing.
Mal Pais and Paquera
Both places offer good fishing, particularly local fishing since they are small fishing towns.
Costa Rica Fishing Calendar
Here are the best times of year for fishing in the Northern Pacific.
(Tamarindo / Flamingo / Gulf of Papagayo)
Marlin:  March.
Sailfish:  March – August.
Tuna:  August – October.
Mahi-mahi: May – October.
Roosterfish: November – March.
Wahoo: May – August
Deep Sea Fishing in Costa Rica
There are plenty of Billfish Costa Rica along with marlin, sailfish, roosterfish and more. The most popular places to go deep sea fishing in Costa Rica are Tamarindo, Flamingo, Herradura, Quepos, Golfo Dulce/Golfito, Drake Bay and Gulf of Papagayo.
Inshore Fishing
There are still plenty of fish to catch on an inshore fishing trip. Wahoo, grouper, snappers, mahi-mahi and tuna are just a few fish that roam around closer to shore.
Some of the best places to go inshore fishing in Costa Rica are Tamarindo, Gulf of Papagayo, Caribbean, Quepos and Samara.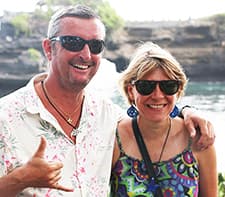 Would you like to know more about this, or find out more about the fishing, our trips or anything else we can help with?
Just get in touch and we'll be happy to answer any questions you may have.
– Roy and Louise