Find out more about our Costa Rica Fishing Charters
Take a minute to meet the team and our Tamarindo, Cost Rica fishing charter crew who will be working to ensure you have a great fishing trip in Tamarindo. Our crew for your Tamarindo Fishing Charters are bilingual, have decades of experience fishing the waters of Pacific northwest Costa Rica, and specialize in instructing clients in any aspect of fishing they desire. Want to learn how to rig a circle hook? Hook your own sailfish? Let any of our Tamarindo fishing charter crew know and we'll put you right in the middle of the action!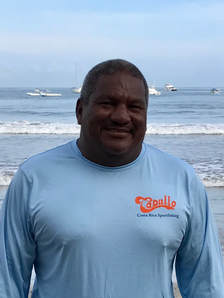 Gerald Ruiz
Captain
Capt. Gerald Ruiz, who runs our 22′ Boston Whaler Rainbow Runner, has been with us for over 20 years. A fisherman's fisherman, Gerald has a wealth of knowledge and has authored a number of personalized fishing techniques that have proven successful time and again. Gerald takes fishing personally, and you'll find no one more devoted to producing a successful Tamarindo Fishing Charter trip.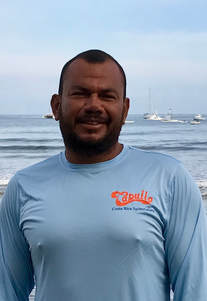 Manuel Leal
Captain
Capt. Manuel Leal, running our 36′ Topaz Capullo, has been with us for over 15 years. Manuel started out as mate on the Capullo and quickly developed into one of the best deck hands in the business. Manuel became Captain in 2003 and has continued his practice of engaging clients' interests in our fishing techniques and other aspects of fishing. Manuel remains committed to producing the very best in our Tamarindo Fishing Charter experiences for our clients.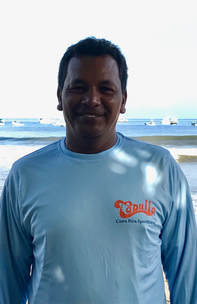 Cheyenne Rosales
First Mate
Cheyenne Rosales is First Mate on the Capullo, and has been with us for over 18 years. Cheyenne is a natural fisherman, and handles his myriad of duties on deck with the dexterity that only years of experience can produce. No one has a better awareness of the minute to minute aspect of the Tamarind Costa Rica fishing arena. He has the best eyes in the business, and is practically always the first to spot a fish in the spread.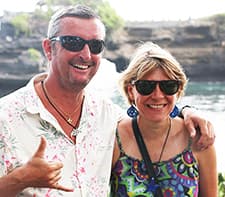 Roy and Louise
Owners
Roy and Louise have worked together for 25 years in various sectors from finance to customer hospitality.
Roy has been fishing since he was a boy learning his initial skills fly fishing on the rivers and lochs in Scotland. With the opportunity to live in Asia he was able to develop his sport fishing skills and his love of fishing continued. So much so that Roy and Louise moved to a remote island in Fiji to own a resort offering deep sea fishing and diving.  Always looking for a new adventure they have now settled in Costa Rica and take great pride in being able to offer Tamarindo deep sea fishing charters in one of the top fishing destinations in the world.
Roy's goal is to make sure that each customer's trip is a fun and enjoyable experience no matter what level of angler.
Louise will be your initial main point of contact and will always ensure that your requests are speedily dealt with. She can assist not only with the booking of the fishing charters but any other needs you may have from accommodation, transport and booking other local trips.
Roy and Louise are very customer orientated and will always go the extra mile to ensure you have a fantastic experience with Capullo Sportfishing whilst in Tamarindo.
If you have any questions about our services, fishing in the area, or if you'd like to request charter dates then please don't hesitate to get in touch with us via our contact page. We'd love to hear from you. 
What our customers say about Capullo Tamarindo Fishing ...
These guys are awesome. Had a buddy recommend them and was very glad he did. One of the best charters I've been on in many years. Roy and the team... read more were all about ensuring that we had a great time and worked their asses off to get us on fish. While other boats either got skunked or caught one fish the day we were out, we caught a nice sail, mahi and grouper (great dinner that night!). The first mate was constantly changing lures and baits trying to find the right combo. We trolled and also freelined some live bait my sons caught. While there is always an element of luck to fishing, team Capullo was tireless in its pursuit of fish. Capt and first mate were friendly and knowledgeable. They were also patient with my two sons and handled everything. I can't recommend these guys enough. When we come back...and we will definitely be back, we will be using Capullo again. Thanks again Roy!
Paul D
April 1, 2021
We ended up fishing with Capullo because the boat we were supposed to be on had mechanical issues. We did a full day trip on the Capullo with 5... read more guys on a bachelor party. The crew and captain are alot of fun and work hard...More
Stuart W
September 4, 2018
Took a trip on a The Capullo on a recent visit to Tamarindo, and had an awesome all-day fishing experience. Owner Roy Halliday and crew met us with a huge... read more cooler full of fresh fruit, water, lunch and of course beer, and we set to...More
Nick C
May 25, 2019