Find out more about our Costa Rica Fishing Charters
We are the proud owners of two boats, Capullo and our smaller vessel Rainbow Runner. Read below for more information about each Tamarindo Fishing Tour, the capacity and the rates we charge for our Costa Rica deep sea fishing tours.
Included in the price is all tackle, ice, bait, soft drinks, beer, snacks and fruit. Lunches are included on full and 3/4 day charters. (Crew tips not included; 15-20% minimum is customary) The price is for the boat and not per person.
We are happy to arrange our Tamarindo Fishing tours for any size of group! We have access to a variety of other boats in our area, and often put together multiple boat charters for larger groups. Contact us for pricing and more information about our Costa Rica deep sea fishing tours.
If you have any questions or comments, or just want to know how the fishing was today, please don't hesitate to get in touch! 
Our flagship Tamarindo Costa Rica charter boat is Capullo, a 36-foot custom Topaz sportfisher.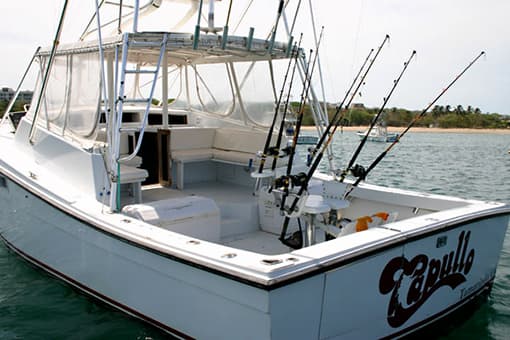 Capullo is a luxury 36′ twin diesel engine sportfisher that can seat six comfortably but is also ideal for one or two couples. Capullo is outfitted for serious fishing with state-of-the-art equipment, as well as the amenities demanded by those with an eye for quality.
Twin Inboard Diesel

Full Cabin with Private Bathroom

Marlin Tower

Outriggers

State-of-the-Art Electronics

Large Cockpit with Fighting Chair

All-IGFA Tackle

Complete Safety and Emergency Gear
36′ Topaz – Up to 6 people  
Half Day $1000 
3/4 Day   $1500
Full Day   $1700
A 7th person can be included for a charter for an additional $50.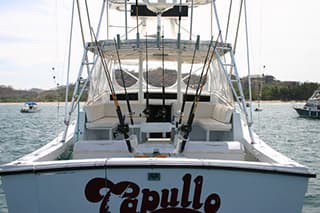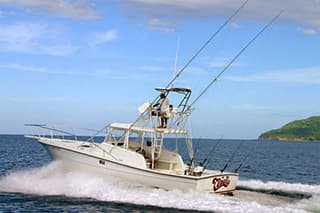 Book now to reserve your charter dates! You can reserve your charter instantly with a deposit via PayPal. .
Also very popular is the unsinkable 22-foot Boston Whaler, Rainbow Runner.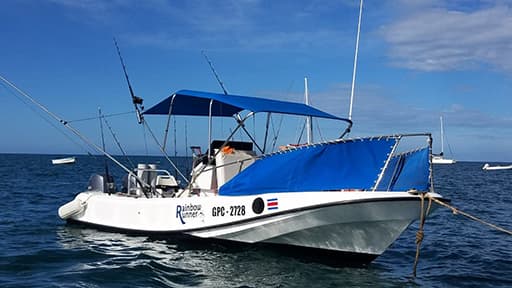 This boat will handle up to three anglers, but is ideal for individuals or couples. Rigged for serious fishing also, Rainbow Runner has been a favorite in these waters for years and is great for anglers on a budget​.
Twin 60 H.P. Outboards

Shaded Deck with Bimini Top

Radio, Depth Sounder, GPS

Outriggers

Downrigger

Tuna Tubes

All-IGFA Tackle

Complete Safety and Emergency Gear
 22′ Boston Whaler- Up to 3 people
  ​Half Day $500
  3/4 Day   $600
  Full Day   $700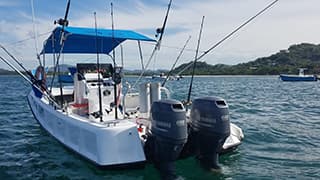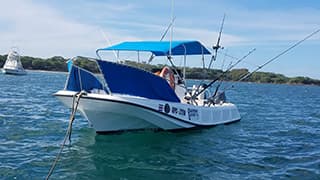 Book now to reserve your charter dates! You can reserve your charter instantly with a deposit via PayPal.
Capullo Sportfishing Cancellation Policy
If you cannot make the date you have booked your fishing charter with us we will do our best to reschedule your trip.
If you need to reschedule or cancel your fishing charter please let us know as soon as possible.
If you cancel 30 days or more prior to your fishing charter we will give a full refund. 
If you cancel within 30 days your deposit is non-refundable.
If you cancel within 48 hours the full amount for the charter is payable.
If a fishing charter needs to be cancelled due to weather conditions or issues out of our control we will work with you to reschedule the trip. If we are unable to reschedule the trip a full refund will be given.
If you need to cancel due to Covid-19 travel restrictions or illness we can reschedule your fishing charter to a date within the next 12 months.
No refund will be given for returning to shore early due to seasickness.
What our customers say about Capullo Tamarindo Fishing ...
Let me start by saying the boat is super nice and clean. We booked a 5 hour trip with Roy and Louise the owners and to our surprise Roy went... read more along for the trip. I told him we were looking for sailfish and we were fine with trolling all day even if we came home empty handed. "Go big or go home". Well we did not catch any sailfish but we did spend the entire trip laughing and telling stories. Roy is an interesting individual and a quality person. We ended up back at the beach bar drinking and telling more stories with Louise and Roy. We did not catch any fish but we did make new friends which in my book is a great day on the water! We highly recommend the trip and if you are going for sailfish, book a full day! More
Dr_Shane_Riley
July 9, 2019
Let me start by saying Loise and Roy were great! Captain Gerald was also very friendly and attentive.

As mentioned in other posts, Costa Rica is... read more a premier fishery, so it goes without saying how excited we were to have this experience. Having fished all my life, I understand fishing is not necessarily catching, but the expectation was extremely high and I was excited to share this experience with my son-in-law, who is fairly new to fishing.

We booked an 8 hour trip and were extremely disappointed to not catch a single fish. Not even a bite. Again, I understand the concept of fishing, but to spend $700 on a premier fishery and not land a single fish...? Makes a grown man cry.

We booked the Rainbow Runner and because I wanted this to be a great experience, I asked if there were any differences or limitations in the smaller boat vs the larger Capullo when it came to the type of fish targeted. I was told there was no difference.

Unfortunately, there was a limitation difference. After quitting early on the Captain's advice, we learned the larger boat had gone 15 miles further out than us and were into the fish. They were fishing in waters outside the distance limits of the Runner.

When we made it back to shore, we could sense disappointment all around. I believe Roy would have gotten us out again for a follow-up trip at a discounted rate, if the Runner wasn't scheduled for maintenance. The problem is, I don't know if I'll ever make it back. They did issue a $75 refund for ending the trip early.

If I was to rate customer service, it would be 5 stars. "FISHING" experience 1.

Would I use them again? I probably would.

Hilarious side note. Went white water rafting with my wife and daughter. Hooked a fish while running the river using a hand-line and pineapple.
MB8472
March 4, 2022
Went on a half day today and these guys absolutely killed it . 1 200+ lb blue marlin 3 mahi mahi 1 wahoo 1 yellowfin . Bet professional crew that... read more has been working together for 20 years on this boat so they know what the...More
FakU2
June 14, 2019