Introduction
Costa Rica's crystal-clear waters offer fantastic opportunities to provide unforgettable experiences for fishing enthusiasts. This small Central American country, stretching along the Pacific and Caribbean coasts, has gained a reputation as a paradise for anglers from all over the world.
In this article, we will explore what it means to enjoy fishing charter tours amidst the breathtaking nature of Costa Rica. You are invited on an adventure to catch giant dorados, sailfish, blue marlins, and many other marine creatures. Let's dive together into the fishing adventure that begins in these exciting waters.
What is a Costa Rica Fishing Charter?
A Costa Rica fishing charter is the service provided through rented boats and experienced captains for the purpose of fishing along the coasts of Costa Rica. Fishing charters are a real opportunity for passionate anglers determined to fully enjoy the rich marine life and scenic beauty of Costa Rica.
What are the benefits of a Guided Fishing Tour?
A guided fishing tour in Costa Rica provides significant advantages for both novice and experienced anglers, ensuring safety, comfort, well-equipped trips, and successful fishing experiences.
Those planning to experience fishing in Costa Rica through a guided charter service don't have to stress about selecting the right fishing location. Experienced captains assist in choosing the correct location, knowing where different fish species are most abundant and guiding anglers accordingly. Experienced captains also answer almost all questions you might have.
Furthermore, guided fishing charters in Costa Rica offer tours targeting various types of fish. This allows enthusiastic anglers to find options that match their preferences and interests.
Local knowledge, marine safety training, and experienced guides ensure that all necessary safety measures are known and implemented. This ensures a safe fishing experience on open and offshore waters.
Charter fishing tours provide basic equipment like rods or fishing tackle. Being fully equipped, they offer a comfortable, efficient, and hassle-free fishing experience.
Expert captains and guides help increase the chances of catching the targeted fish species by being in the right place at the right time and using the right techniques.
Costa Rica charter boat fishing eliminates the risk of wasting time and energy on research, trial, and error. There is no need to spend time researching the right route, techniques, or equipment; it is all provided.
Guided fishing tours in Costa Rica provide snacks on deck, energizing and relaxing anglers while making the experience more enjoyable. The chance to share the experience with more people makes it even more entertaining.
Additionally, Costa Rica fishing tours offer a fantastic opportunity to experience the local culture, observe the region's natural beauty, and gain knowledge about fishing techniques.
Capullo boats in Tamarindo.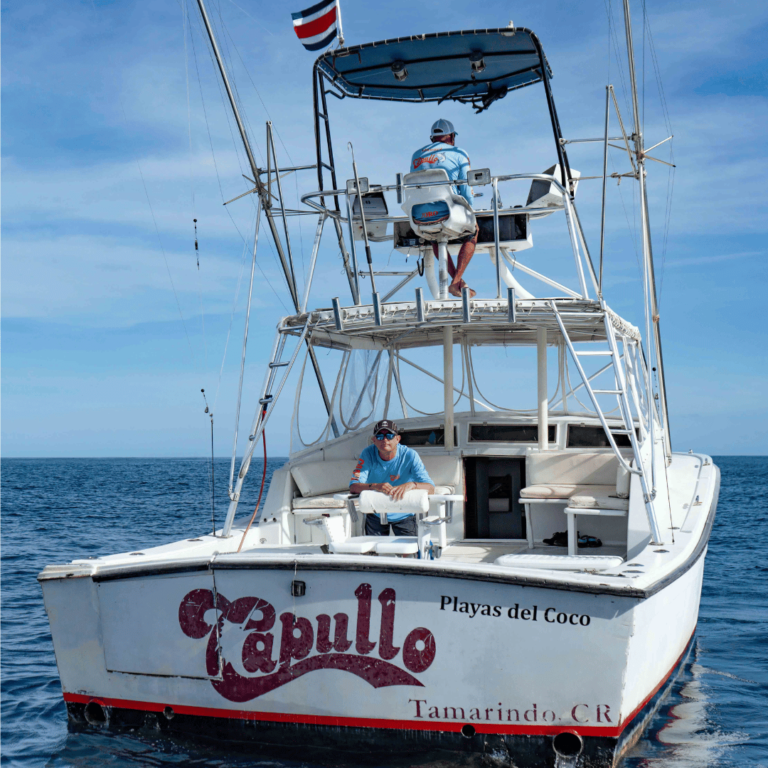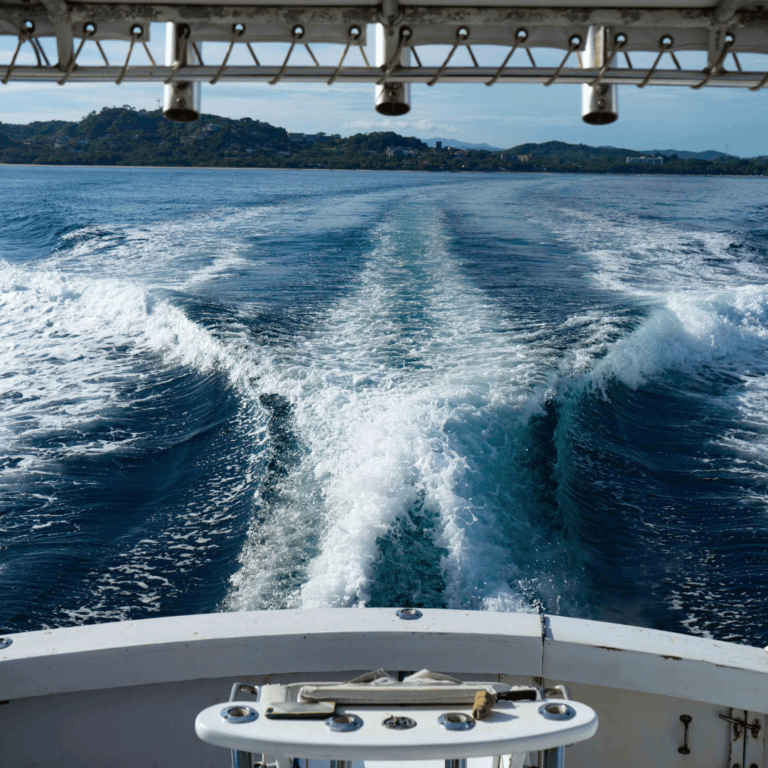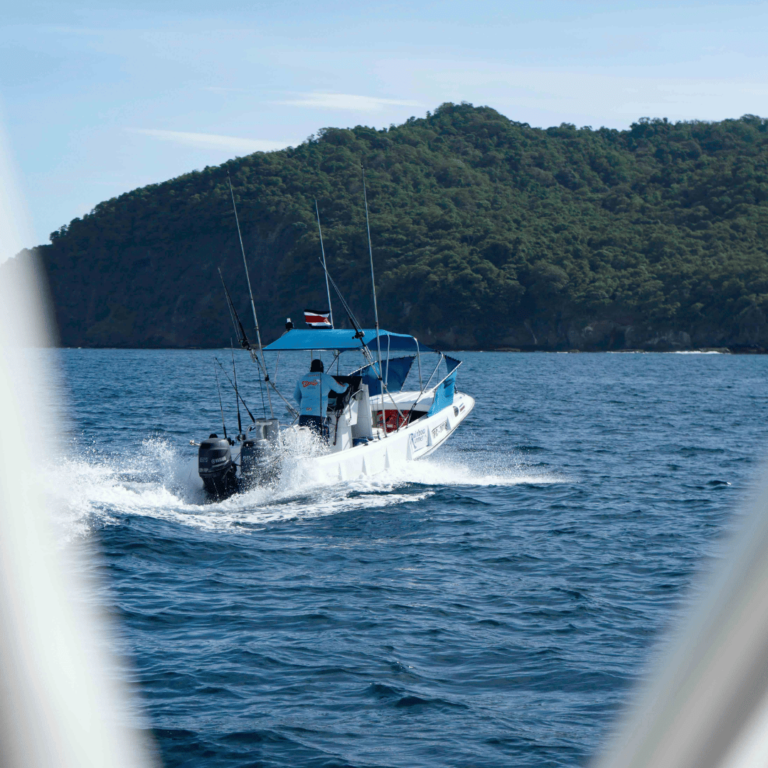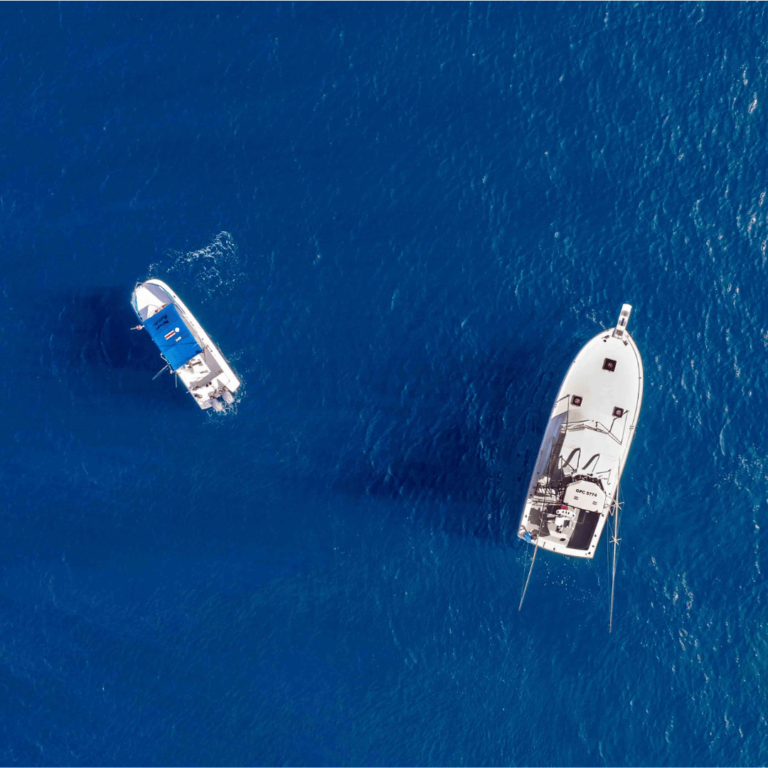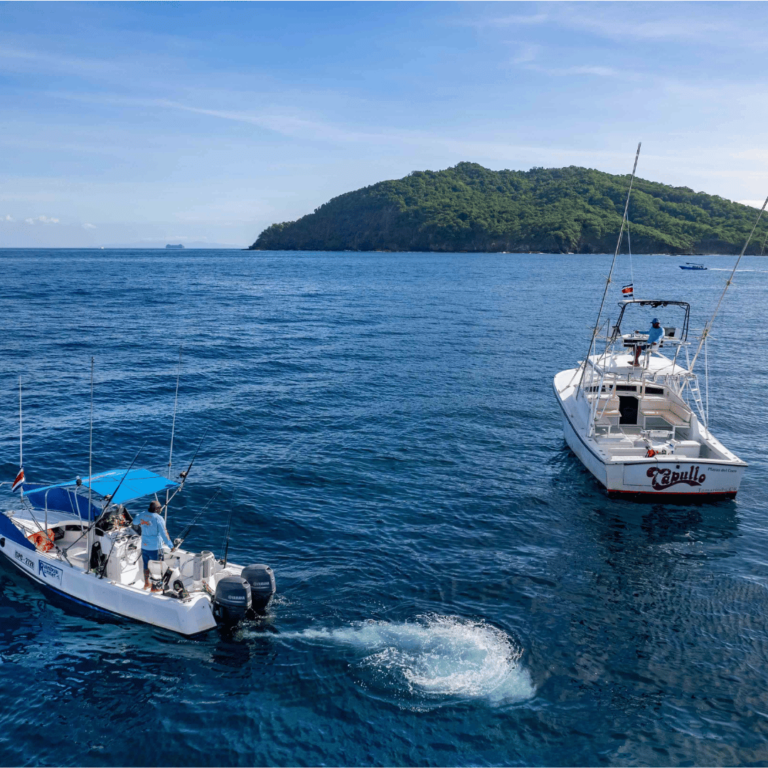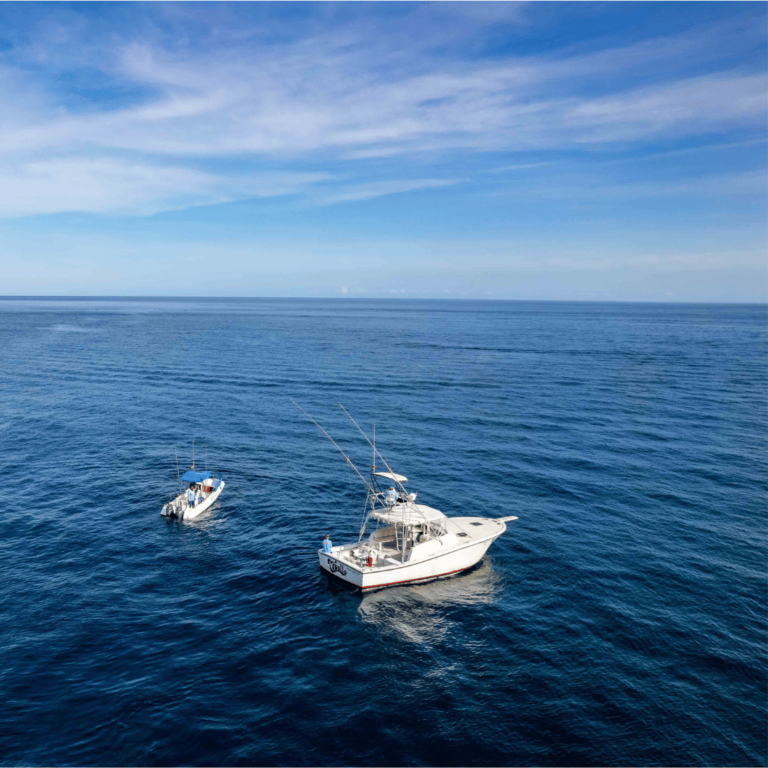 What is the best season for booking a Costa Rica Fishing Charter?
Costa Rica offers amazing fishing all year round. December to April is the dry season and is a great season for the billfish as well as a variety of other fish such as tuna and dorado (mahi mahi). These are also the months when there can be high winds which from time to time can affect the fishing so it's important to be aware of this. The rainy season is from May to November which can enhance the fishing by cooling down the water temperature providing an abundance of tuna and dorado (mahi mahi). Billfish can also be found on good days. Thunderstorms are common at this time of the year, however generally but not always, occur later in the afternoon. Bear this in mind when planning your fishing expeditions. Sportfishing charter companies such as Capullo Sportfishing will be able to advise you on current local weather conditions when planning your charter with them.
What is the price breakdown of a fishing charter in Costa Rica?
The price breakdown of a fishing charter is determined by factors such as the duration of the tour, the type of boat, the number of participants, the provision of refreshments (or those available for an additional fee), fishing equipment, the guide's experience, necessary licenses and permits, and services like airport or hotel transfers.
Some fishing charter tours are priced per person, meaning you would pay a separate fee for each participant. On the other hand, some tours are priced for a group, which means a fixed rate for a specific group of people, regardless of the number of individuals within that group. Each tour operator may have a different pricing policy.
Tipping the fishing charter crew should also be included in the expenses. It is common to tip the captain, who is in charge of the safety of the boat, and this tip can be approximately 10% to 20% of the tour cost. In some fishing charter tours, there may be additional helpers or crew members. It is generally appreciated to tip these individuals, and the amount of the tip can be determined by the participants in the tour.
The tip amount can always vary based on personal preferences and the quality of the experience.
Do you need a fishing license to fish on a charter boat?
Yes, you will need a license. Before going fishing on a charter boat in Costa Rica, it's important to communicate with your tour operator regarding fishing permits and licenses. The tour operator should assist you in arranging permits and ensuring compliance with requirements.
What to wear on a fishing charter trip?
On a fishing charter trip, you should wear lightweight clothing, shorts or long pants, a hat, sunglasses, a waterproof windbreaker, aqua shoes. You could also bring a towel, and have spare clothing.
What to bring on a fishing charter trip?
On a fishing trip, you should bring your identification and fishing permit/license (these can be as a photo on your phone), weather-appropriate clothing, any important medications you take, sunscreen, cash and/or bank card for trip payment or tip, a waterproof bag.