Are you looking for your next angling adventure? Well, you've cast your line in the right direction. Right in the heart of Central America is Costa Rica, the go-to destination for anglers like you seeking both thrill and tranquility. With its rich marine life and stunning landscapes, you will not only enjoy an adrenaline-pumping adventure, but you get to relax and soak in the views after. We've scoured the best charter experiences and narrowed down all the best of Costa Rica's Prime Fishing Spots for you. So whether you're aiming for a specific fish to reel in and where best to find them, wondering which places to visit during certain months, or curious about the different fishing options, we've listed it all down for you.
The 7 Best Fishing Locations in Costa Rica
You've heard the tales. Now, it's your turn to be part of one. Costa Rica is a dream destination for most anglers. With its rich waters and abundant marine life, it's no wonder sportfishing enthusiasts from around the globe flock here. But where exactly should you drop your line? Read along to find out.
1. Guanacaste: A Top Spot for Tuna and Roosterfish
Ever dreamed of hooking a massive Yellowfin Tuna or the feisty Roosterfish? Then Guanacaste should be at the top of your list. The deep-blue offshore waters of this region are teeming with these prized catches. Imagine the thrill of feeling that strong tug on your line and the adrenaline rush of reeling in one of these beauties. Does this sound like your kind of adventure?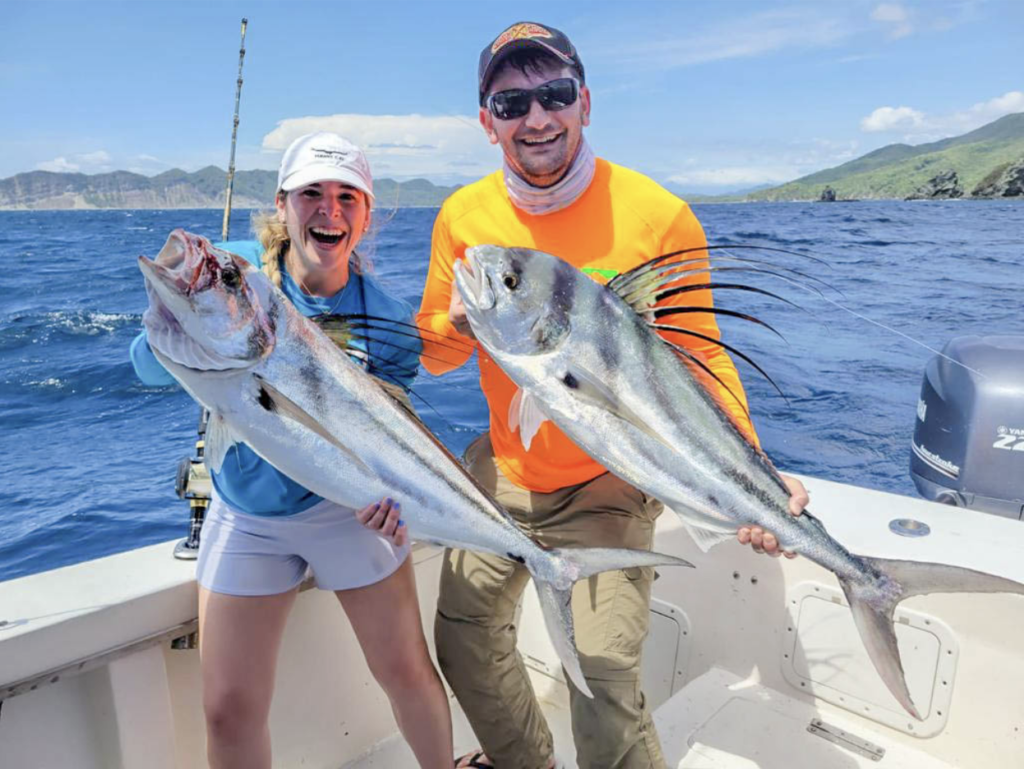 2. Quepos: Sailfish Capital of the World
Have you heard of the tales of anglers battling the majestic Sailfish? If this kind of thrill is on the top of your sportfishing bucket list, then we recommend you head to Quepos, often dubbed the 'Sailfish Capital of the World'. With its prime location and optimal water conditions, this area is a hotspot for Sailfish. The question now is, are you ready for the challenge?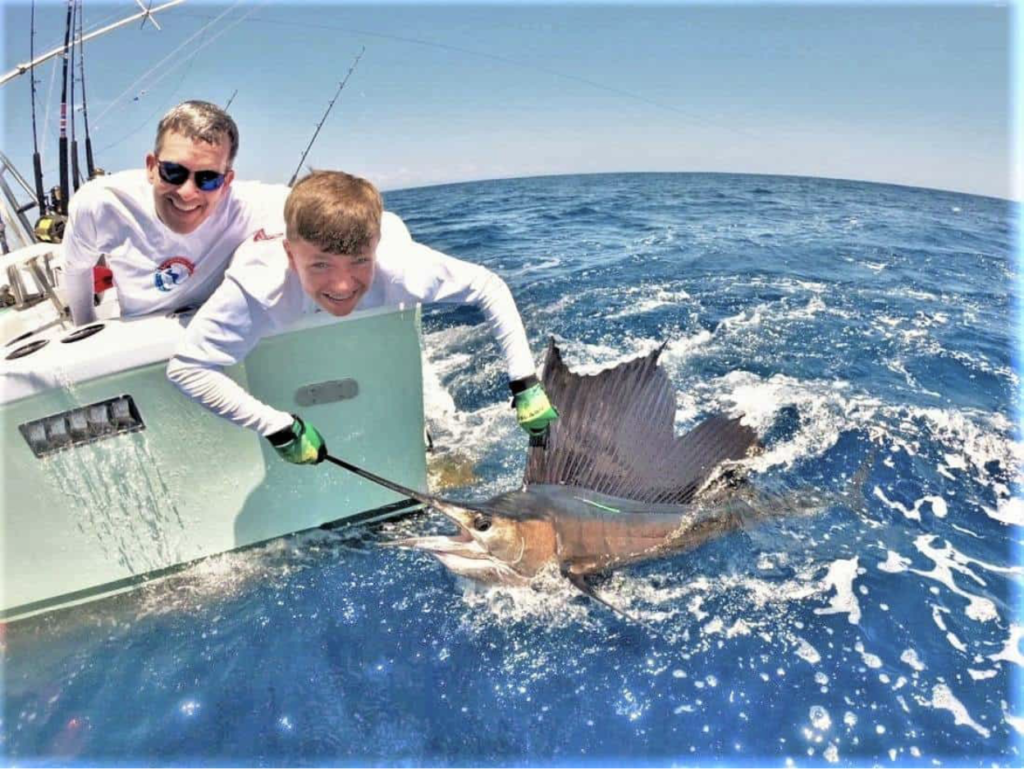 3. Jaco: Deep-sea Enthusiast's Dream
Deep-sea fishing is an experience like no other, and Jaco is the place to be. Dive into the deep blue and encounter the giants of the ocean, from massive Marlins to gigantic Groupers. And for those who crave the thrill of the open ocean and the mystery of the deep, Jaco awaits. Do you have what it takes to conquer the depths?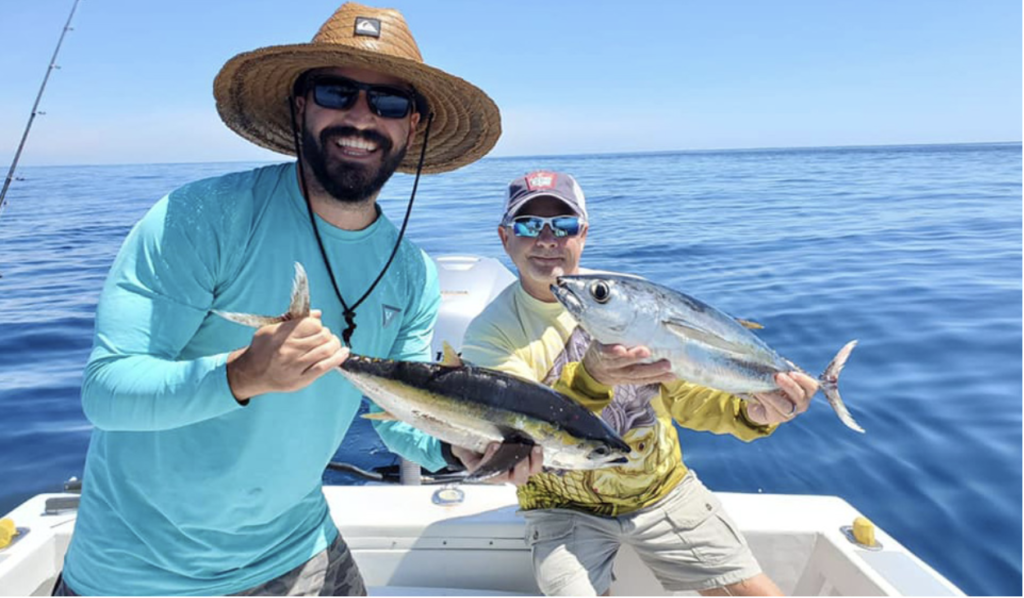 4. Gulf of Papagayo: Billfish Galore
If Billfish is what you're after, then the Gulf of Papagayo should be on the top of your list. Renowned for the abundance of majestic creatures such as Swordfish and Blue Marlins, it's definitely a billfish bonanza. Can you imagine the stories you'll tell after a day out in these waters?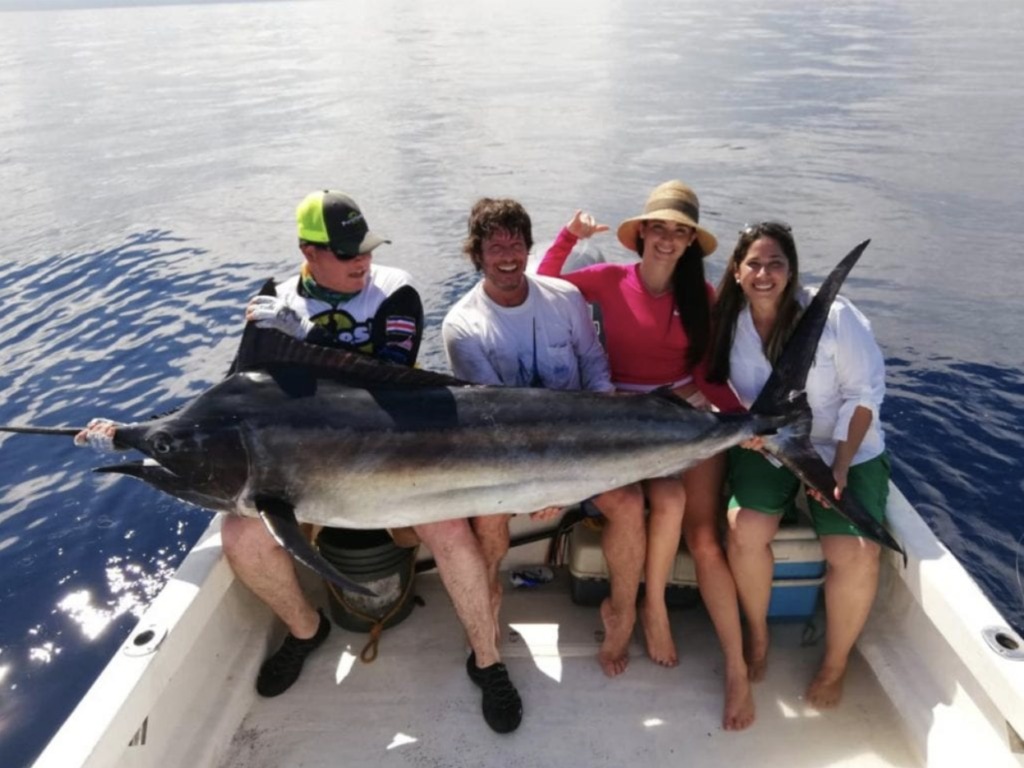 5. Tamarindo: Surf Fishing Paradise
For those who love the thrill of fishing with the waves crashing around them, Tamarindo is the place to be. The shores here offer a unique opportunity to catch the likes of Snook and Jack Crevalle right from the beach. Curious to try your luck on the surf? And if you're into the big guys, then you will definitely enjoy reeling in those big powerful Marlins and Sailfish.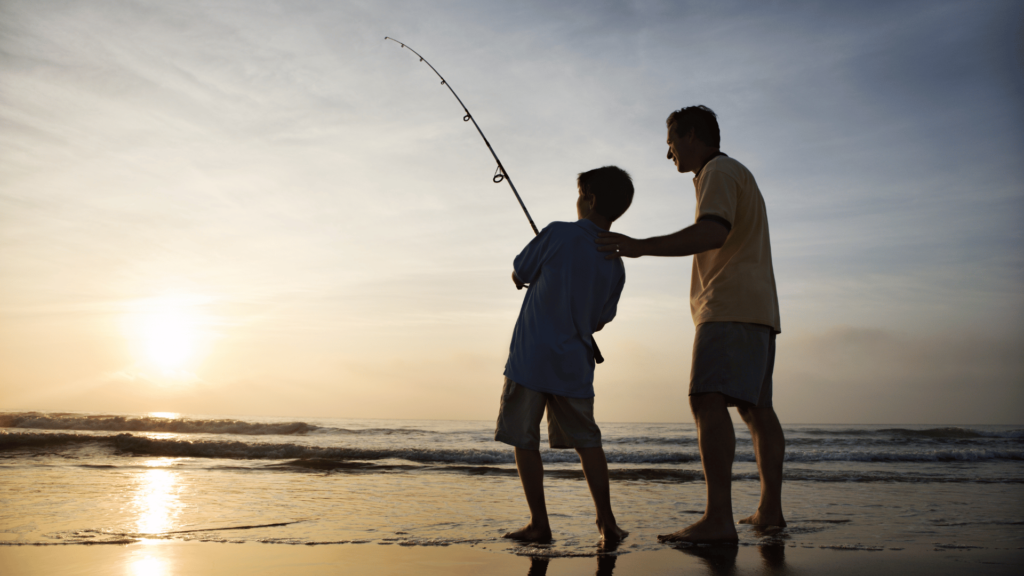 6. Los Suenos: A Marlin Hunter's Haven
Los Suenos is where dreams come true for Marlin hunters. These waters are rich with both Blue and Black Marlin, offering anglers the chance for the catch of a lifetime. With their power and grace, Marlins are a test for even the most seasoned anglers. So if you dare to take on the king of the ocean, we highly recommend a trip to Los Suenos!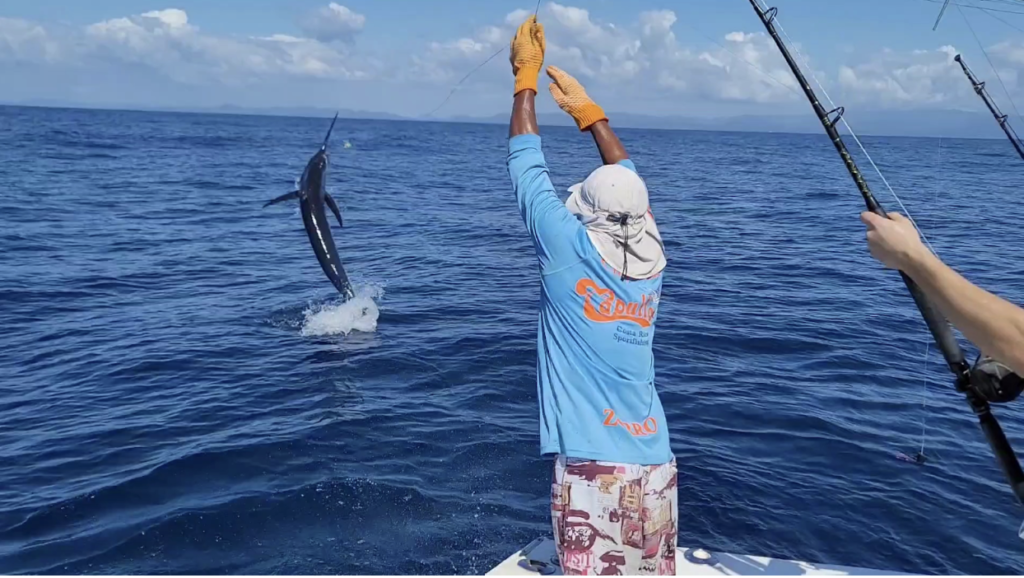 Capullo boats in Tamarindo.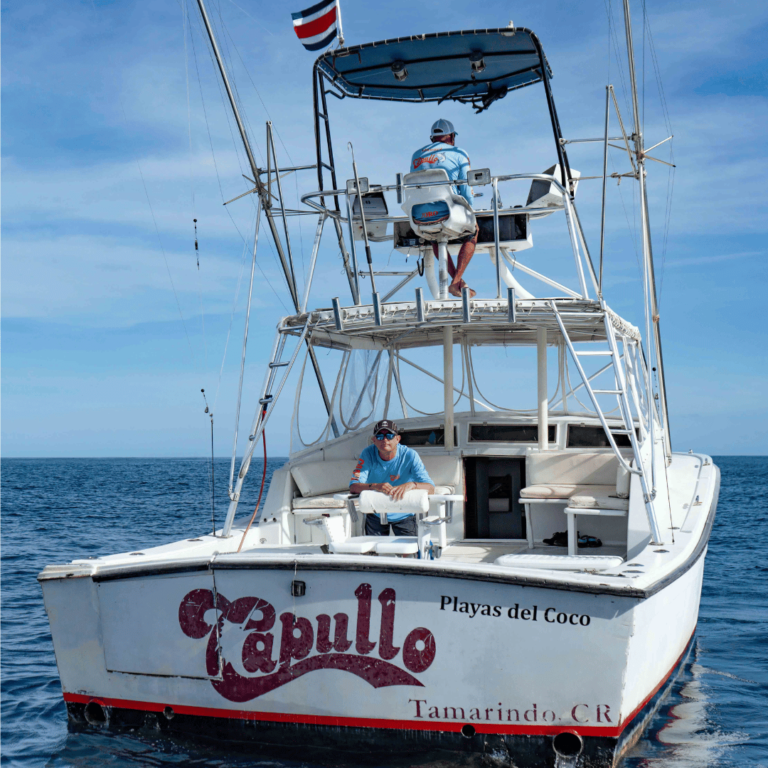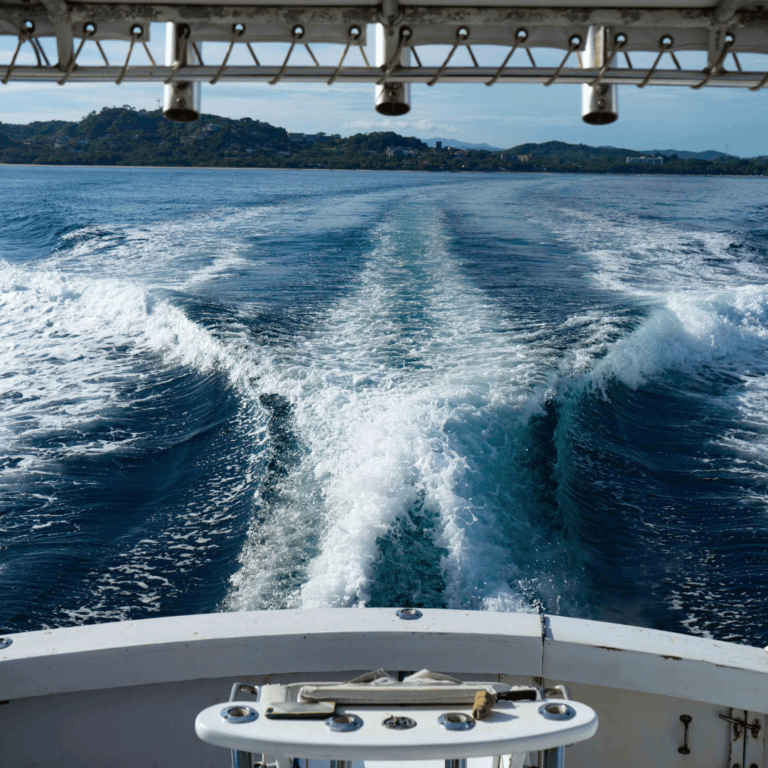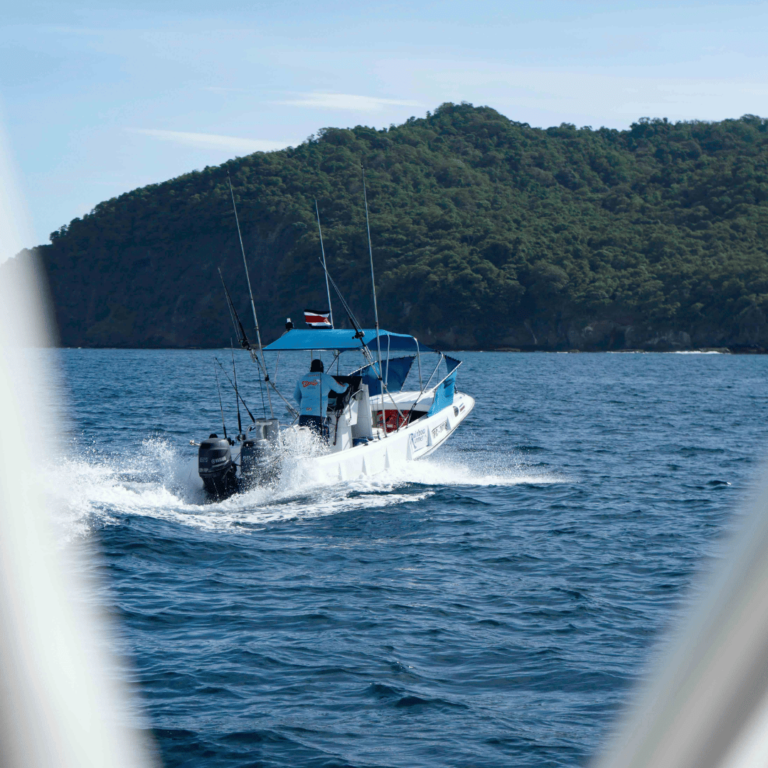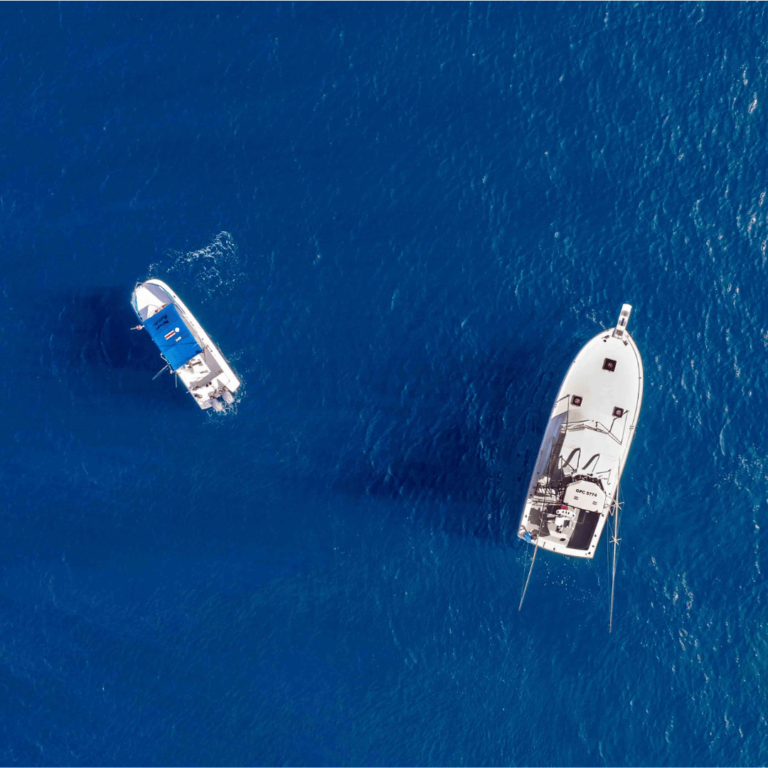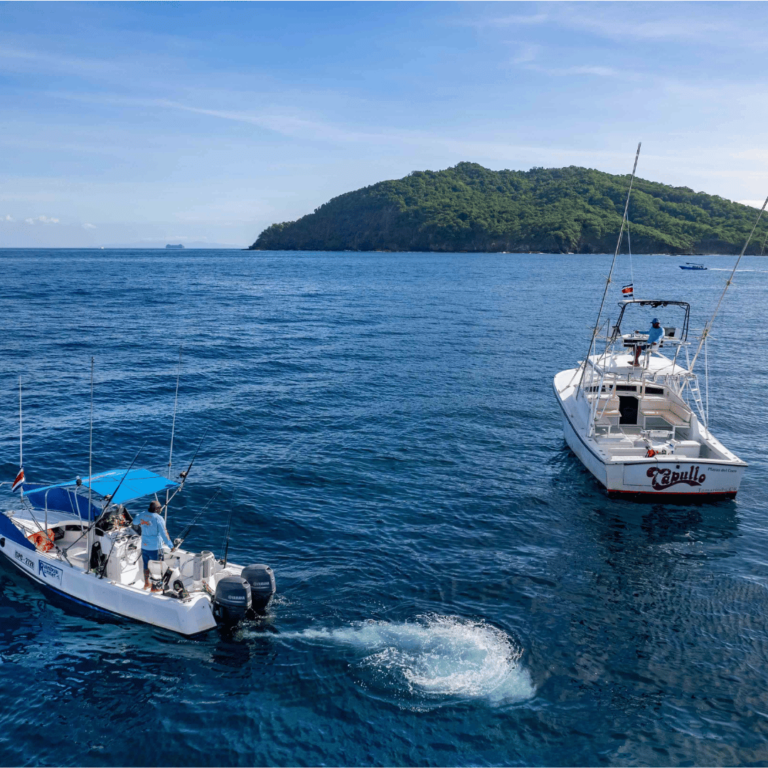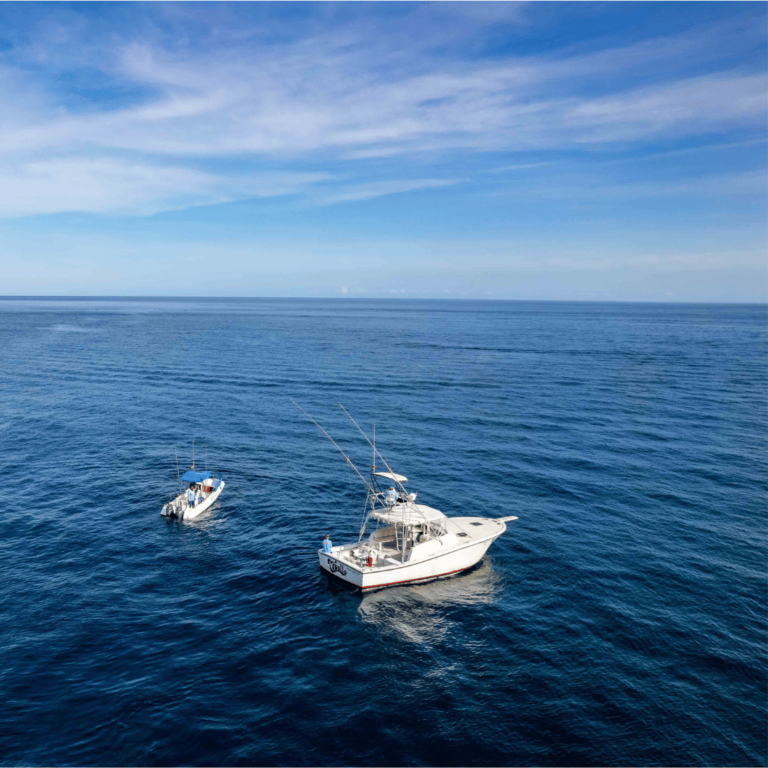 Best Locations by Type of Fishing
The Thrill of the Deep: Deep Sea Fishing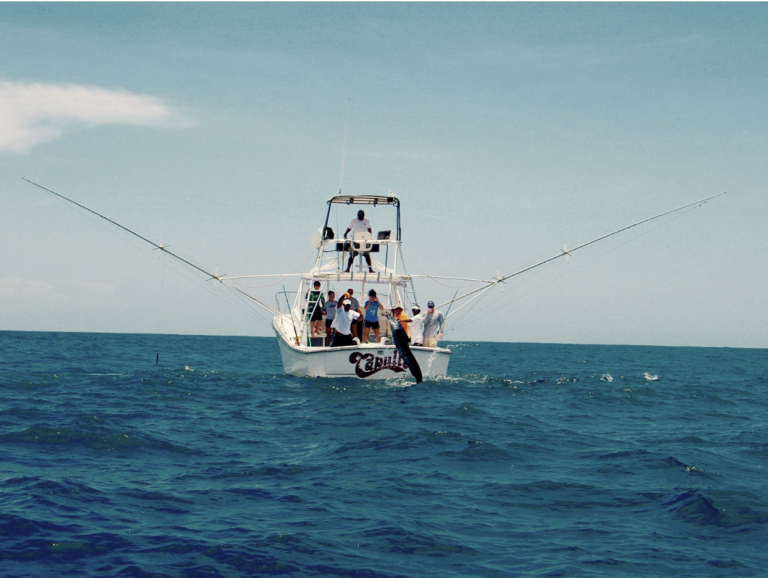 Nothing beats the thrill of deep sea fishing. And Costa Rica's coasts promise a real treat. Try Tamarindo or Quepos for a glimpse of the majestic marlin, or explore Los Suenos where billfish rule the deep blue. If you're wondering where to charter the best deep-sea fishing experience, look no further than Capullo Costa Rica Sportfishing, the trusted name for all your offshore angling adventures.
Tamarindo
Steer your boat beyond Tamarindo's iconic surf breaks, and you're in for a treat. The deep blue of the Pacific holds treasures that can set any angler's heart racing. If you've ever fancied reeling in a massive Marlin or wrestling with a Wahoo, you've come to the right place. In Tamarindo, it's a dream come true. With every cast you make, there's a story waiting to be told. And believe me, the tales of Tamarindo are stuff legends are made of!
Gulf of Papagayo
Ever dreamt of catching a Blue Marlin or a feisty Wahoo? This is the place to be. The unique currents of the Gulf make it a hotspot for sailfish and marlin. Get lost in the vastness of the Gulf of Papagayo, where the waters run deep and the fish run wild.
Quepos
Beyond the horizon of Quepos lies an ocean playground for every deep-sea angler. This hotspot is renowned for its marlin, sailfish, and tuna galore. Schools of billfish parade these waters, challenging even the most seasoned sportfish enthusiast. But with Capullo's local experts, navigating these waters becomes an adventure you'll cherish for years.
Sand, Surf, and Rod: Beach Fishing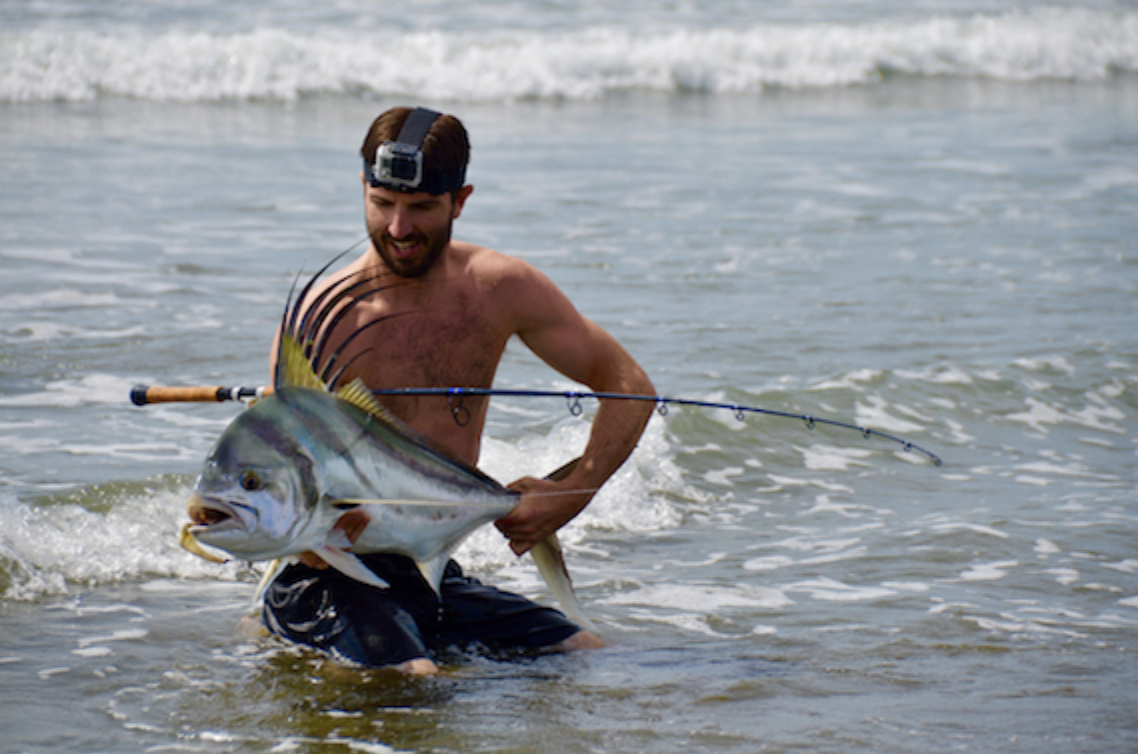 Picture this: you hear the rhythmic crashing of the waves, the gentle whisper of the sea breeze, and you feel the thrill of feeling a fish bite while you stand with feet planted firmly in the sand. Beach fishing, or surfcasting, is a dance between the angler and the ocean. Costa Rica's shores offer a front-row seat to this dance. We've covered the best spots for your next beach fishing adventure:
Jaco
Jaco is more than just a surfer's paradise. It's a beach fishing dream. Its sprawling sandy beach and rich aquatic life is your playground. Whether it's casting long snapper or just enjoying the sunset with a rod in hand, Jaco promises both fish and memories. 
Tamarindo
Tamarindo's golden sands hide a world teeming with snook and roosterfish. With its unique dorsal fin and robust body, roosterfish is a sight to behold, and even more exhilarating to catch. And Tamarindo's shores surely have a lot of these on offer. 
Guanacaste
Snook, with its sleek body and fierce demeanor, is a prize for any beach angler. And in Guanacaste, these fighters seem to love the sandy banks. Maybe it's the mix of fresh and saltwater, or perhaps it's the vibrant underwater ecosystem. Whatever the reason, your best shot at landing a Snook might just be here. Got your gear ready?
Embrace the Shorelines: Inshore Fishing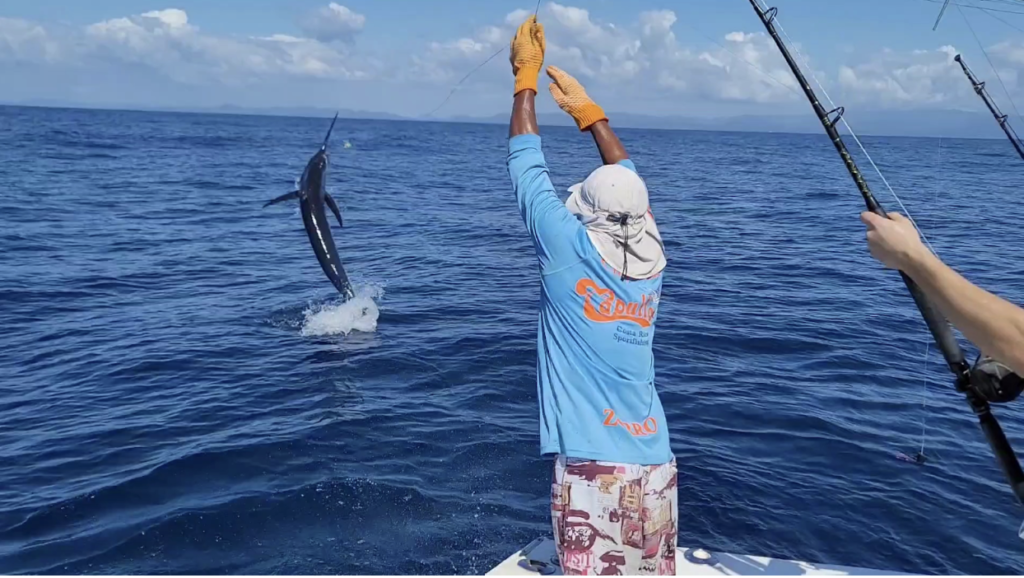 Not too deep, not too shallow – inshore fishing offers a unique thrill. The beauty of inshore fishing is that it combines the best of both worlds: the tranquility of being close to the shore and the thrill of capturing some truly feisty species. And when it comes to inshore fishing, Costa Rica is no less than a gold mine for anglers like you. Ready to wade through some of the top inshore fishing spots in the country? We have the top 3 spots just for you:
Liberia
Liberia is not just an entry point for travelers but a gateway to some of Costa Rica's finest inshore fishing spots. Ever battled a Roosterfish or a Snook? Liberia's coastline offers both in abundance. With the sun shining, clear waters, and your rod bending with the weight of your catch, doesn't it sound like a perfect day?
San Jose
San Jose is another bustling city with coastal waters that hide some prized jewels for inshore enthusiasts? Throw in your line and feel the tug of a Jack Crevalle or a Sierra Mackerel. And the best part? After a fruitful day, you can easily get lost in the vibrant city culture.
Los Suenos
Ah, Los Suenos! The name translates to 'The Dreams', and for an inshore angler, it truly is dreamy. The waters here are teeming with fish like the Rainbow Runner and the Grouper. Whether you're a newbie or an expert, your dream catch is waiting.
Fresh Finds: Freshwater Fishing
For those who fancy freshwater fishing, Costa Rica doesn't disappoint. There's something undeniably serene about freshwater fishing. The calm waters, the chirping of birds, and the challenge of capturing freshwater species make it a truly unique experience. Costa Rica, with its sprawling rivers and lagoons, is a paradise waiting to be explored. Below are our top picks for the best freshwater fishing spots in Costa Rica:
San Jose Rivers
Away from the hustle and bustle of the city, the rivers around San Jose offer a tranquil fishing experience. Here, the Machaca, known for its aerial antics, and the Rainbow Bass rule the roost. Get your rods ready for a great afternoon of relaxing fishing.
Guanacaste
Beyond its beaches, Guanacaste hides freshwater gems. Whether it's casting a line in the shimmering lakes or exploring its hidden streams, there's always a surprise waiting. Ever encountered the feisty Guapote or the elusive Bobo? A day in Guanacaste's freshwater spots is an angler's delight. Ready for the unexpected?
Liberia Lagoons
Liberia isn't just about inshore fishing. Its lagoons, a haven for freshwater enthusiasts, are teeming with species like the Mojarra and the Tilapia. Imagine setting up your gear amidst the lush greenery, waiting for that telltale pull. Sounds relaxing, right?
Waves and Wonders: Surf Fishing in Costa Rica
There's nothing like the thrill of casting your line as the waves crash around you. For those of you with a passion for surf fishing, this Central American paradise offers some breathtaking spots where the waves kiss the shores and the fish await your lure. Have you ever dreamt of casting your line against the backdrop of a perfect sunset, while the surf plays its calming tune? Let's dive deep into Costa Rica's best surf fishing locations.
Jaco Beach
Jaco Beach is known for its golden sands and surfers catching the waves. But did you know it's also a haven for surf fishing enthusiasts like you? With a rich marine life, you can expect to hook species like Roosterfish, Jack Crevalle, and even the occasional Snook. As you stand with your feet dipped in the warm sand, savor the excitement of the next big catch.
Tamarindo Bay
The golden sands of Tamarindo Bay aren't just for sunbathing. It's a paradise for surf anglers, with its deep channels and rock formations, making it ideal for some unique catches. You'll find Snappers, Mackerels, and the prized Roosterfish patrolling these waters.
Fly Fishing in Costa Rica
Ever wonder why Costa Rica constantly tops the charts for fly fishing destinations? It offers a perfect blend of freshwater rivers and saltwater coasts makes it an irresistible choice for fly fishing enthusiasts all over the globe. Now, let's explore the three must-visit spots that make the heart of every angler race with excitement:
Los Suenos
Widely known as one of the most tranquil fishing spots, Los Suenos combines calm waters with a variety of marine life, providing an intriguing challenge for fly fishers. The gentle sways of the water, complemented by the distant calls of exotic birds, create an almost meditative environment. It's not just about the ambiance, though. So get ready to test your skills against the underwater treasures of Los Suenos.
Lake Arenal
There's something magical about Lake Arenal. Maybe it's the imposing Arenal Volcano looming in the distance, or perhaps the playful dance of rainbow bass beneath the water's surface. Every moment spent fly fishing here gives you a beautiful memory to remember. Ready to create yours? 
Rio Colorado
Seeking the thrill of a real challenge? Head to Rio Colorado. Dubbed by many as the ultimate fly fishing challenge, Rio Colorado is home to the majestic tarpon. These silver giants are not just about size; they're wily, they're strong, and they demand the best from every angler. The thrill of battling a tarpon with just your fly rod is unparalleled. Have you got what it takes to face the king of Costa Rica's waters?
Paddle and Cast: Kayak Fishing in Costa Rica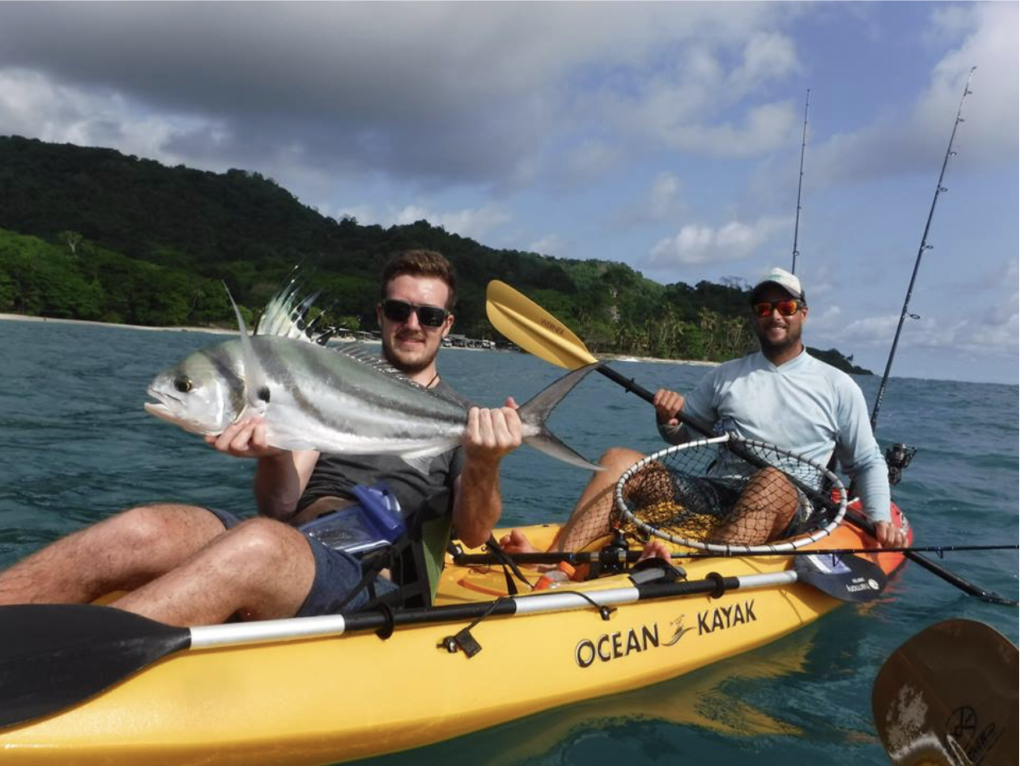 Picture this: you are gliding through clear waters, with the sun kissing your skin and the rhythmic splash of your paddle setting the day's rhythm. Now, imagine a sudden tug on your line, the adrenaline surge, the pulse-racing excitement of reeling in your catch. Dreamy, isn't it? Welcome to the magic of kayak fishing in Costa Rica! Here we list the top 4 destinations for that thrilling kayak fishing experience:
Guanacaste Kayak Adventures
Explore the beautiful waters of Guanacaste with a kayak rod in hand. The thrill of casting from a kayak, feeling every nibble and tug, is unparalleled. The region offers anglers a shot at roosterfish, snapper, and even the occasional jack. And with the added advantage of Capullo's local expertise, you can paddle to those secret fishing spots only the locals know.
Quepos Coastal Explorations
The coastal waters of Quepos are a playground for kayak anglers. Navigate through its intricate coves and inlets, and you might just land a snook or mackerel for dinner. With the support and guidance of Capullo Costa Rica Sportfishing, you can enhance your kayak fishing experience, making every trip out to sea a potential trophy-winning adventure.
Gulf of Papagayo
Glide through the serene waters of the Gulf of Papagayo in a kayak, getting up close and personal with the underwater world. It's an intimate experience, heightened by the thrill of hooking a big one. 
Jaco
Jaco's coastline is perfect for kayak fishing. Paddle out and let the ocean surprise you with its treasures. Whether it's a snapper or a roosterfish, with Capullo's guidance, you're in for a memorable catch.
The Allure of Costa Rica's Species: Choose Your Target
Roosterfish 
An iconic game fish that anglers rave about, Roosterfish offers a challenging catch. For the best odds, make your way to the Gulf of Papagayo. Another option for the best catch is Los Suenos and Tamarindo. With its pristine waters, it is prime territory for the mighty roosterfish. The backdrop is as breathtaking as the fish itself. And, if you're teaming up with Capullo Costa Rica Sportfishing, you're sure of an angling story worth retelling…
Snook 
The elusive Snook, a true gem of inshore fishing, can be a test of skill for any angler. Tamarindo and Jaco are famous for their Snook-rich waters. And if you're looking for a freshwater option, try your luck in Liberia. The rivers here are teeming with these prized fish. Just remember, with Capullo by your side, that dream catch is just a cast away.
Tarpon 
With their powerful leaps and runs, only a few species can compete with the mighty Tarpon. Liberia's waters are known for holding these silver giants. Capullo Costa Rica Sportfishing has a deep love for chasing Tarpon, and our expertise can be the key to you landing one of these giants.
Marlin
The king of deep-sea fishing! Off the Gulf of Papagayo, Los Suenos and Tamarindo, the blue and black Marlin rule the deep blue. These apex predators are the stuff of fishing legends. And, with Capullo's crew guiding your boat, not only do you increase your chances of hooking one, but their experienced crew also ensures it's a fair and sustainable fight, respecting both the angler and the fish.
Billfish
Few species captivate an angler's imagination quite like the graceful and powerful Billfish. If this is your dream catch, head to Los Suenos or the Gulf of Papagayo and Tamarindo to experience the thrill of chasing these majestic creatures. With their acrobatic leaps and sheer power, they're a true test for any sports fisherman.
Sailfish
Experiencing the swift and graceful Sailfish on the line is a story worth telling. Jaco and Liberia are well known for their rich Sailfish populations. So if you want to snap that photo with a sailfish on hand, then join Capullo's charter fishing trips to better your chances of landing this huge prize.
Tuna
Tuna – speed, power, and determination rolled into one sleek package. If you're after the adrenaline-pumping action of chasing Yellowfin or Bigeye Tuna, Tamarindo is your go-to spot. Lean on Capullo's experience to guide you to the hottest Tuna territories, ensuring both an exhilarating chase and a delectable catch for dinner!
Snapper
Whether you're after the aggressive Cubera or the colorful Parrot Snapper, Tamarindo and Guanacaste have the reefs and structures these species love. Navigating these intricate spots requires local knowledge, and that's where the Capullo team shines. They'll put you on top of the best snapper spots, turning your fishing trip into a snapper success story.
Match Your Skill: Top Fishing Spots for Every Angler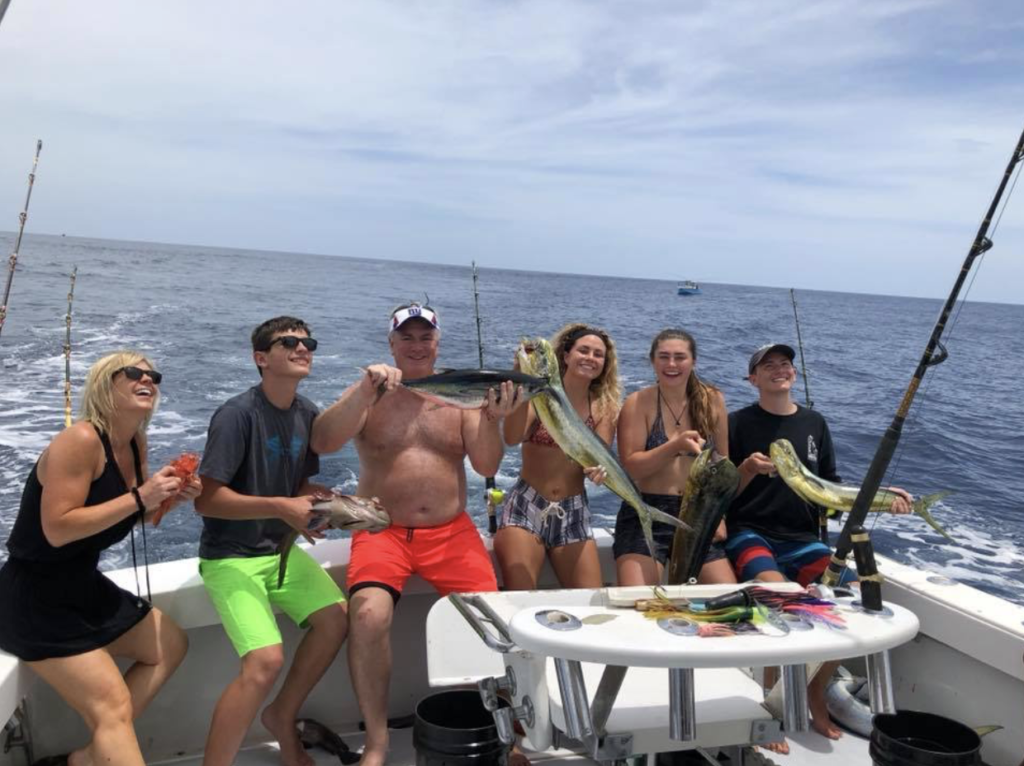 Beginner's Paradise: Tamarindo
New to the sportfishing game? Fear not. Costa Rica is a welcoming haven for novices. Tamarindo is perfect for those looking to get their feet wet (pun intended). With calm waters and a variety of species that bite readily, it's the ideal starting point. Plus, Capullo's patient and experienced crew will guide you through the basics, making your first fishing experience a memorable one.
For the Pros: Deep Waters off Los Suenos
For the seasoned angler looking for a challenge, the deep waters off Tamarindo and Los Suenos harbor monsters of the deep, like the elusive marlin and lightning-fast sailfish. Teaming up with Capullo ensures you have top-notch gear and local knowledge, setting the stage for the battle of a lifetime.
Why Choose a Sportfishing Charter?
Sportfishing in Costa Rica isn't just about casting a line; it's about the full experience, the thrill, the memories. By opting for a charter like Capullo Costa Rica Sportfishing, you're ensuring:
Expert guidance in choosing prime fishing spots.

Access to top-tier fishing equipment and gear.

Safety and comfort, ensuring you focus solely on the catch.

Insider tips and secrets that only locals would know.
Tailored Experience with Capullo Costa Rica Sportfishing
It's one thing to know the best fishing locations in Costa Rica, but to truly experience the magic, you need a seasoned guide. Enter Capullo Costa Rica Sportfishing – your gateway to memorable fishing trips tailored just for you. With local expertise, top-notch equipment, and an unwavering passion for angling, we guarantee not just a trip, but an experience. From deciding on locations to understanding local fish patterns, we've got you covered.
So, what's holding you back? Costa Rica's fishing spots are calling, and with Capullo Costa Rica Sportfishing, you're in for the angling journey of a lifetime. Whether you're casting a line off a serene beach, battling the giants of the deep, or exploring the riches of the flats, we're here to make every moment count. Let's set sail together into Costa Rica's blue, where every tide brings a new fishing tale to tell. Cast your line, reel in those memories, and let the tales of your catches become legends! 🎣